7 Top-Rated Tourist Attractions in Costa Rica
Costa Rica is a wonderland of natural attractions, with volcanoes, beaches, cloud forests, and unique wildlife. This is a country that appeals as much to birdwatchers and luxury focused travelers as it does to surfers and backpackers. The busy city of San Jose is home to the country's best museums and lovely squares, but the real treasures lie beyond the capital, in the forests and small coastal villages. Endless stretches of beach line the Pacific Coast, with small towns that cater to surfers and sun seekers. Inland, the forest-covered mountains offer their own adventures, from volcanoes and waterfalls to ziplining and extraordinary wildlife viewing. Costa Rica also has shoreline on the Caribbean. While this is a lesser visited area of the country, it offers something a little different in terms of culture and attractions, and is known in particular as a breeding ground for green sea turtles.
1 Manuel Antonio National Park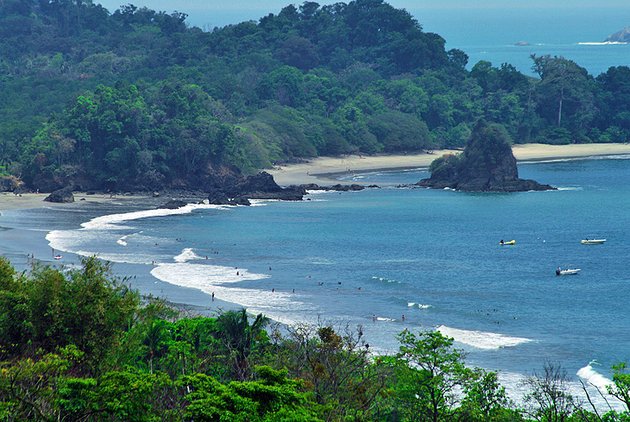 Wildlife, beaches, and fun are what attract visitors to Manuel Antonio National Park and the adjacent town of Manuel Antonio. The park is known for its beautiful stretch of sand, forest, and the wildlife that inhabits the area. Standing in stark contrast to this tranquility is the small town of Manuel Antonio, known for its lively atmosphere. Visitors who can embrace both will find the area lends itself to a longer stay. The town has plenty of hotels and restaurants and is within easy walking distance of the park. Guided walks through the park make for easy wildlife spotting, but even those who venture into the park on their own will have no trouble finding monkeys, sloths, and all kinds of birds. Howler monkeys, squirrel monkeys, and the hard-to-miss capuchins that frequent the town and park can usually be seen from the trails. Tour guides often carry tripods and telescopes, which are an added bonus for viewing and photography. Most of the action in town is centered around the beautiful oceanfront beach, where noon time soccer matches break out, and surfers enjoy the usually gentle waves. (This is a popular place to take a surf lesson.) Across the road from the beach and higher up on the hillside are restaurants and stores, some of which can get quite loud in the evenings. For those who want to escape from the activity of the main beach, equally attractive beaches can be found inside the park.
2 Arenal Volcano (Volcan Arenal)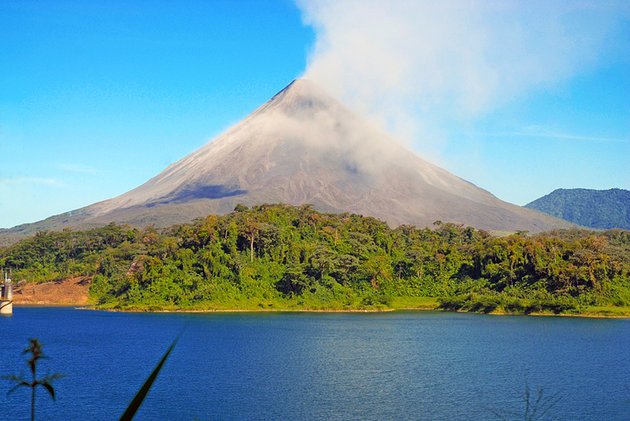 The Arenal Volcano National Park is found in the rugged Cordillera de Tilarán and is one of the top volcano viewing areas in the country. The main attraction in the park is the Arenal Volcano, reaching 1,633 meters. It looks just as one might imagine a volcano; a cone-shaped mountain with huge ash columns streaming from the crater. Arenal was dormant from 1500 AD until a massive eruption on July 29, 1968, which killed 82 people and destroyed two villages. Since then, it has seen regular activity and, depending on the day or week, visitors can expect to see anything from a cloud of ash to glowing red lava flowing down the mountain. The park is also known for its wide range of biodiversity with approximately half of all Costa Rican birds, reptiles, amphibians, and mammals represented somewhere within its boundaries. The Arenal Observatory Lodge, originally a private observatory established in 1987, is the only lodge within the Arenal Volcano National Park boundaries. It is located on a macadamia nut farm on the south side of the volcano. From the lodge, there are excellent views of the volcano and Arenal Lake in the opposite direction. Numerous hiking trails are in the area, some of which lead to waterfalls, as well as old and recent lava flows.
3 Monteverde and the Cloud Forests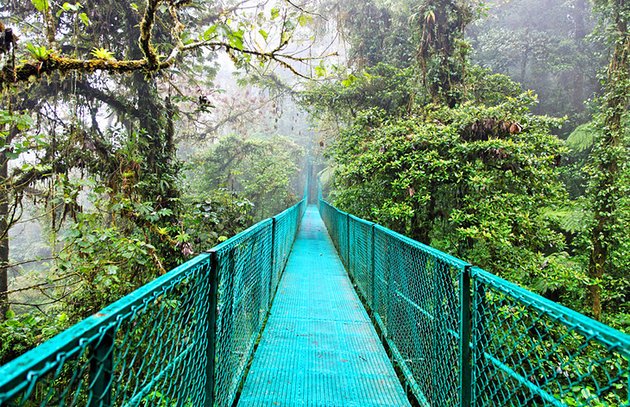 The Cloud Forests near Monteverde and Santa Elena have become popular ecotourism destinations within Costa Rica. For those itching to immerse themselves in nature and see unique plants and wildlife without venturing too far off the beaten path, this is definitely the place to come. The clouds that cover these forests provide the moisture necessary to sustain the area's unique habitats that are only found here. While many people come simply for the bird watching, the Monteverde Cloud Forest Reserve and the Santa Elena Cloud Forest Reserve sustain all kinds of mammals, amphibians, and reptiles, from jaguars and pumas to frogs and monkeys. Organized hikes are one of the best ways to see the forest, along with canopy tours that may involve zip-lines or bridges and even cable cars. Monteverde and Santa Elena are the two main tourist centers in the region, with accommodation, restaurants, and even shops and artists' galleries. This area is located northwest of San Juan, a little more than four hours by bus. Since the area is cooler and known for its cloud cover, visitors don't tend to stick around long once they have seen the sights, with many travelers choosing to head down to the beaches along the coast.
4 Dominical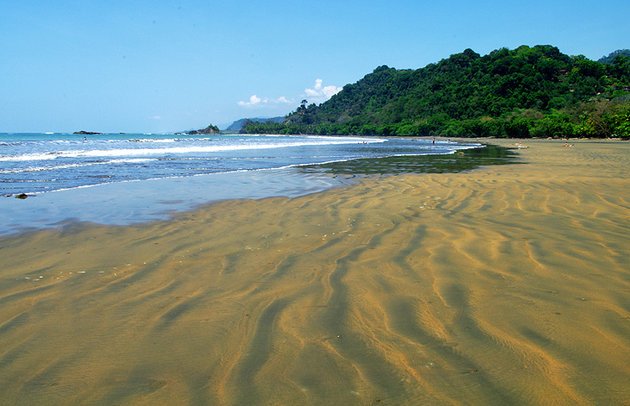 Dominical is a tropical backpacker's haven, with dirt streets, beautiful beaches, cheap accommodation, casual open-air restaurants, and its own unique vibe. Surfers who come here find it hard to leave, and visits often turn into extended stays. But Dominical also attracts an upper-end crowd who can find small luxury inns and bed and breakfasts on the outskirts or in the hills overlooking the town. These places are often set off on their own and allow for close up wildlife viewing, with howler monkeys waking guests in the morning and toucans flying by the pool. The town's main claim to fame is a wide stretch of open beach, backed by shady trees, where vendors set up tables and sell crafts and other items to tourists. Outside of town are quieter beaches where it's possible to find a peaceful space all to oneself. Due to Dominical's southern location, it is lush and steamy even in the dry season when northern areas are dusty and the trees have dropped their leaves.
5 Tamarindo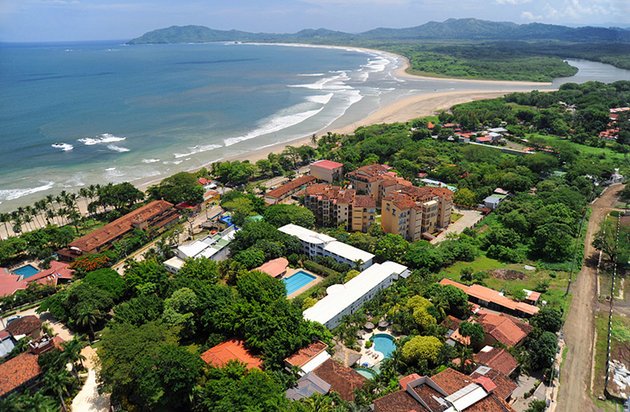 Tamarindo is the place on the Nicoya Peninsula for surfing, beaching, and fun. Once a quiet fishing village, Tamarindo is now a tourist haven where visitors can find good food and accommodations, as well as all kinds of other tourist amenities. The town is spread along Tamarindo Beach, which runs for approximately 1.5 kilometers. The area is known for its surfing, with breaks for experienced surfers and areas for learners. The biggest waves are generally in November and December.
The area around Tamarindo is also known for its eco-friendly adventures, and activities that include snorkeling, diving, horseback riding, ziplining, and turtle watching in season. Nearby Playa Grande is one of Costa Rica's most important nesting grounds for leatherback turtles. Throughout October and March, more than 100 turtles can be seen nesting and laying their eggs overnight.
6 Mal Pais and Santa Teresa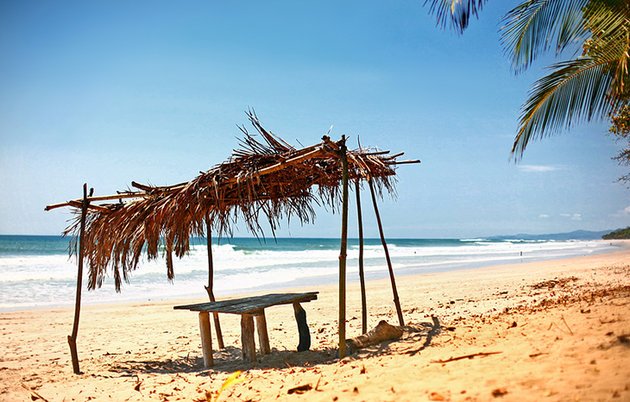 Mal Pais on the Nicoya Peninsula, is an area along the coast known for great waves that attract surfers from all over. The town of Santa Teresa is the main hotspot in the area, but a chain of villages and beaches lie along the Mal Pais, including the villages of Mal Pais and Manzanillo. Today, the area is a mix of backpackers, surfers who never managed to leave, and tourists who wish they had planned a longer vacation. The area is more trendy and has more of a scene than places like Dominical, and development in the area has turned it more upscale.
7 Jaco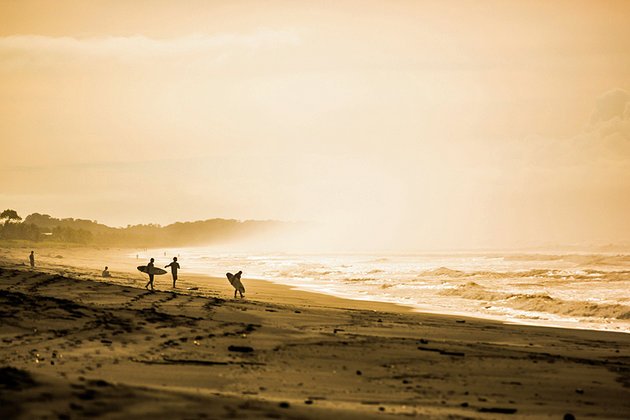 Jaco is a good choice for anyone looking to get out of San Jose but still wanting the comforts and amenities of a larger town or city. The beach here is spacious and pleasant, but average at best by Costa Rica standards. The surfing here is very good and the waves are less dramatic than other areas along the coast, meaning swimming is generally safe. What Jaco does have that sets it apart from the numerous coastal towns along this stretch of the Pacific is modern apartments and stores, good restaurants and hotels, and other modern conveniences that have made it a popular choice with expats and retirees. Even travelers staying in nearby villages like Esterillos tend to gravitate towards Jaco for a day here and there, either for shopping or a nice dinner out.