The 5 most beautiful hikes in Germany
Astonishing Germany. Half the land area is a nature reserve and a third of the country is forested. That is an exceptional territory in the eyes of walkers.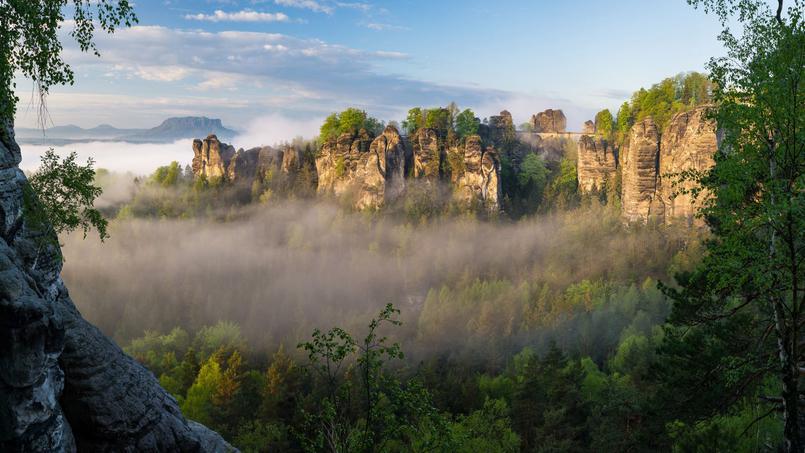 As we enter "Destination Nature", the show of the tour in Paris, Porte de Versailles (from 17 to 20 March, http://destinations-nature.com/), we selected five walks along the 200 000 km of marked trails that make up Germany. Local tourist offices help organize these exceptional walks in organizing the logistics necessary to achieve them. In Germany, nothing is left to chance.

1. The wilder

At the gates of France, at the edge of the Black Forest in Bad-Wurttemberg, cross-border hiking trail begins in Pforzheim and ends 285 km further in Basel, Switzerland. Bogs, valleys, ridges road, peaks, meadows and lakes summarizing the landscapes that we cross all along the royal road.

2. The most spectacular

At the heart of the region also called "Saxon Switzerland", the Bastei and magical landscapes have inspired the painter Caspar David Friedrich's grandest canvases. The hiking trail overlooking the Elbe and offering a panoramic view to Rosenberg, Bohemia. It starts at Liebethal before joining Pirna or 112 km to go in a picturesque environment very steep.

3. The most idyllic

The Jasmund National Park is located on the eponymous peninsula, northeast of the island of Rügen. It is a unique landscape with one of the most beautiful beech forests in the world and dizzying chalk cliffs that plunge into the sea more than 110 meters high. The set has been subject to protection under UNESCO. This hike without specific mileage unfolds on different paths without being linear from one point to another in a nature reserve of 30 km².

4. The most fascinating.

The ten islands that make up the archipelago of Halligen in the Wadden Sea in Schleswig-Holstein, live with the tides. The landscapes through different paths are partly flooded by the sea when it is high. When she retires, it's habitat consists of many animal and plant species discovered. Also, in this precious environment hikes are guided in groups and performed on the day. They can be complemented with boat rides approaching the seal banks.

5. The most panoramic

The German Alpine Road trace hiking in the snow and magical landscapes of Bavaria, Lindau on Lake Constance to Berchtesgaden on the Konigssee, or 450 km. It crosses the memory of King Louis II, in his time follower of the great nocturnal escapes sleigh in his Alpine realm. The castles of Neuschwanstein or Herrenchiemsee he erected, are essential steps of this hike also passes through, among other notable sites, Garmisch-Partenkirchen station.